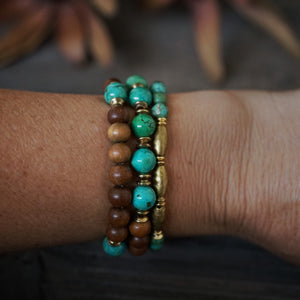 This stack features all 3 stretch bracelets with turquoise and sandalwood beads, accented with fair trade brass details. 

t u r q u o i s e
regarded as a love charm, turquoise is also a symbol of good fortune + success. its energy is relaxing + soothing, allowing wisdom to flow in. it is believed to protect its wearer from harm and is a beautiful companion on any journey, physical or spiritual.
s a n d a l w o o d
known for its heady, soothing aroma and its calm, meditative energy, sandalwood is said to promote spiritual awareness. a favorite of meditators, shamans, and seekers. this sandalwood is sustainably harvested, all natural, hand carved, genuine sandalwood sourced from a non-profit women's collective in India.
Each piece is handcrafted with love to remind you of the magic within you + all around you.

* Packaged with care in simple, eco-friendly, rustic style packaging.

* Strung on stretch cord for easy on and off.

* All of the materials I work with are carefully selected and beautifully unique. Please allow for the subtle variations that make each piece so special.

* Handmade with love by me in my home studio in Sacramento, California.


s i z i n g

extra small : 6.5 inches
small : 7 inches
medium : 7.5 inches
large : 8 inches
extra large : 8.5 inches


To make sure your bracelet fits just right, measure your wrist using a soft tape measure or a string. Measure your wrist at the wrist bone, and add ½ - ¾ inch for a comfortable fit. You can always choose a slightly smaller or larger size depending on your personal fit preference.