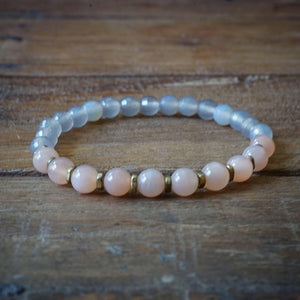 Made for my friend Christy and her Brave Kind community, this magical combo was designed to align aesthetically and energetically with The Brave Kind's ethos. It features 6 mm dreamy peach moonstone and grounding grey agate, accented with gorgeous brass details.
Peach moonstone supports the heart, soothes away worry and anxiety, and brings out the best in people. Its loving energy supports empaths and sensitive folks, allowing them to stay open without overwhelm. Warm and bright, it's like moonlight on a hot summer evening, illuminating visions and dreams. 
Nurturing and nourishing, grey agate offers a deep sense of safety and security, allowing self acceptance, dissolving inner anger, and releasing trauma. Its grounding energy allows allows one to tap into and be rooted in an inner strength. 
Each bracelet is handcrafted with love to remind you of the magic within you + all around you. 
* Perfect as a stand-alone piece or stacked with other bracelets.
* Packaged with care in simple, eco-friendly, rustic style packaging. 
* Strung on stretch cord for easy on and off.
* All of the materials are carefully selected and beautifully unique. Please allow for the subtle variations that make each piece so special.
* Handmade with love by Dawn of Elevate Adornment in her home studio in Sacramento, California.



s i z i n g 

extra small : 6.5 inches 
small : 7 inches 
medium : 7.5 inches
large : 8 inches
extra large : 8.5 inches


To make sure your bracelet fits just right, measure your wrist using a soft tape measure or a string. Measure your wrist at the wrist bone, and add ½ - ¾ inch for a comfortable fit. You can always choose a slightly smaller or larger size depending on your personal fit preference.